Als lokale ondernemer wilt u de markt zo goed mogelijk benutten. Voor een goede positionering van uw bedrijf is het belangrijk om consumenten aan u te kunnen binden, en uzelf te onderscheiden van de concurrentie. Bent u op zoek naar een manier om klanten te belonen, uw klantenkring te vergroten en tegelijkertijd uw positie in de markt te verstevigen? Een spaarsysteem van Homeij biedt alle kennis en tools om deze doelen te bereiken, en van uw loyaliteitsprogramma een succes te maken.
Voordelen loyaliteitsprogramma
Ons spaarsysteem, oftewel loyaliteitsprogramma, is een gemakkelijke en laagdrempelige manier om uw klanten te belonen voor het aankopen van producten of diensten in uw onderneming, zonder dat u hierin veel tijd hoeft te investeren. Het is geschikt voor elke lokale onderneming: of u nu winkelier bent, eigenaar van een kapsalon of een carwash of tankstation runt. Door het sparen van zegels kunnen klanten een door u geselecteerd product aanschaffen met (hoge) korting, of sparen voor volledig gratis producten. Ons loyaliteitsprogramma biedt u de volgende voordelen:

Klantenbinding
Een spaarprogramma is bij uitstek de manier om de klantenbinding te vergroten. Consumenten kijken niet alleen naar de prijs wanneer ze een product of dienst willen aanschaffen: ook uw betrokkenheid, uw service en de 'gunfactor' dragen bij aan de keus om juist naar úw onderneming te gaan. Wanneer u uw klanten aantoont dat u hen waardeert door het aanbieden van een spaarprogramma, zullen zij loyaler zijn aan uw onderneming, en hiermee een positievere associatie hebben. Als bijkomend voordeel zullen klanten minder waarde hechten aan kleine prijsverschillen bij concurrenten. Bij uw onderneming producten of diensten afnemen levert hen immers een voordeel op.
Nieuwe klanten
De inzet van een loyaliteitsprogramma kan u helpen bij het aantrekken van nieuwe klanten. Door een goede zichtbaarheid van uw actie, maar zeker ook door de tevredenheid van bestaande klanten: hoe meer zij het spaarprogramma waarderen, hoe groter de kans dat zij dit zullen delen met hun omgeving. Mond-tot-mondreclame kan een belangrijke bijdrage leveren aan uw loyaliteitsprogramma, omdat een aanbeveling van bekenden voor de ontvanger vaak geloofwaardiger is dan andere vormen van reclame.
Omzetverhoging
Consumenten zijn geneigd meer uit te geven aan producten en/of diensten van uw onderneming wanneer dit hen voordeel oplevert – in dit geval het kunnen sparen voor korting of gratis producten. Door de inzet van een loyaliteitsprogramma ervaren klanten een direct zichtbare beloning bij hogere uitgaven. Immers, een groter bedrag betekent meer spaarzegels, die meteen uitgekeerd worden.
Mogelijkheden

Producten

Om het loyaliteitsprogramma zo succesvol mogelijk te maken, is het van belang dat de producten waarvoor gespaard kan worden goed aansluiten bij uw onderneming en uw klanten. Wij beschikken over een brede range aan artikelen die geschikt zijn voor uw loyaliteitsprogramma. Homeij is namelijk dé messengroothandel, -importeur en -producent van de Benelux. Al ruim 50 jaar zijn wij gespecialiseerd in het leveren van de juiste 'tools for life': praktische producten voor thuis, op het werk en onderweg, die het leven leuker en gemakkelijker maken. Ons uitgebreide assortiment bestaat niet enkel uit messen, maar ook uit zaklampen, beautyproducten, kappersaccessoires, outdoorartikelen en kookgerei. Wij zijn leverancier van een aantal prachtige A-merken, en hebben in Homey's Tools for Life onze eigen succesvolle productlijn. Ook kunt u kiezen voor een van onze private label producten. Door ons uitgebreide aanbod vindt u bij ons artikelen die passen bij uw bedrijf. Kies bijvoorbeeld voor de gewilde spaaractie met de Trophee-serie van het A-merk Diamant Sabatier. Ook onze eigen Homey's Nippon (een sushi cadeauset) en Homey's Grilla (barbecueproducten) behoren tot een van onze meest gekozen spaarartikelen.
Gaat u liever voor artikelen met een persoonlijke touch? Bij ons is het mogelijk om producten te laten personaliseren en zo een herkenbare, lokale twist te geven. Denk hierbij aan een opdruk van het logo en/of de huisstijl van uw onderneming, illustraties van iconische kenmerken uit de omgeving of een passende tekst. Een messenblok van Diamant Sabatier met een afbeelding van de Draak van 's-Hertogenbosch? De skyline van uw dorp of stad op een door u gekozen artikel van Homey's? Samen met u vinden wij de perfecte match tussen een product en uw bedrijf, klanten en wensen.
Het spaarsysteem
Voor het grootste deel van de lokale ondernemers is een fysieke spaarkaart met spaarzegels de meest prettige vorm van een loyaliteitsprogramma. Bij deze manier van sparen is het namelijk niet nodig om speciale software te implementeren om met het spaarsysteem aan de slag te gaan. U hebt enkel spaarboekjes, stickers en promotiemateriaal nodig, waardoor ons loyaliteitsprogramma een zeer toegankelijke optie is. Kiest u liever voor een andere manier van sparen? Ook dit is in overleg met ons mogelijk.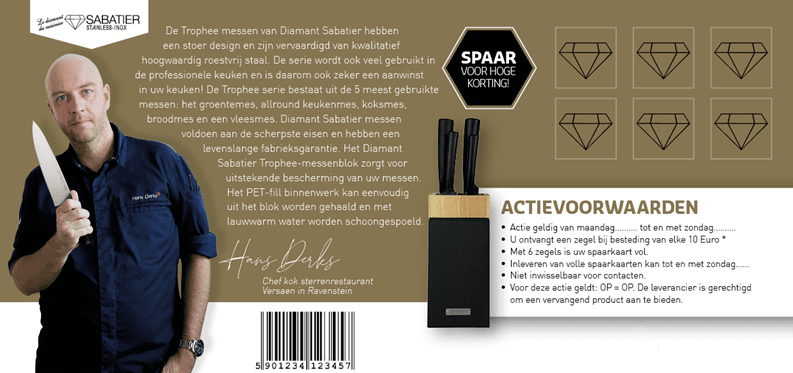 Promotiematerialen
Uiteraard verzorgen wij al het promotiemateriaal dat nodig is om uw spaaractie duidelijk zichtbaar te maken. Denk hierbij aan folderbakjes, beurtbalkjes, vloerstickers, displays, lifesizers en natuurlijk de spaarkaarten en bijbehorende zegels. Ook een stoepbord is een doeltreffend promotiemiddel: het spaarprogramma is hiermee niet alleen zichtbaar in uw winkel, maar ook van buitenaf, zodat ook potentiële nieuwe klanten op de hoogte zijn van de spaaractie. Afhankelijk van uw onderneming en de beschikbare ruimte bekijken we samen welke middelen we het beste kunnen inzetten om het rendement van het spaarsysteem te optimaliseren.
Starten met het spaarprogramma
Wilt u aan de slag met ons loyaliteitsprogramma, of heeft u vragen over de mogelijkheden? Neemt u dan contact op met Erwin Schellekens (erwin@homeij.com). Wij zetten graag samen met u de volgende stap in uw klantenbindingstrategie.